KindredHearts is built on more than 35 years of achieving excellence in meeting today's seniors needs, and anticipating those of tomorrow. We are dedicated to meeting the diverse needs of today's elderly by offering assisted living, memory care and independent living in a personalized, home-like setting, promoting an integrated approach to healthcare.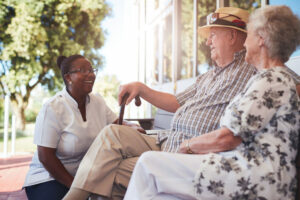 We know that building strong relationships with our residents and their families is key to assuring that every resident enjoys the highest quality of life. At KindredHearts, we honor each person's individual uniqueness and empower them to remain in charge of their own decisions. We live it through the care and compassion with which we treat every resident and employee. And, we instill it into every service we provide, every meal we serve and every opportunity we make available.
Our founders, Dr. Frederic Melius and Douglas Hennig, have more than 35 years of experience in assisted living and healthcare. Their combined expertise and hands-on involvement in the day-to-day activities is testament to their commitment to excellence. This partnership enhances the quality of healthcare for the residents at KindredHearts.